[ China Instrument Network Instrument Development ] On June 29th, the National 863 Program "Advanced Environmental Monitoring Technology and Equipment" major project (2014AA06A500) undertaken by the Anhui Institute of Material Science and Technology of Hefei Institute of Material Science, Chinese Academy of Sciences, passed the Ministry of Science and Technology in Beijing. Experts accepted by the Office of the 863 Program Resources, Environment and Technology.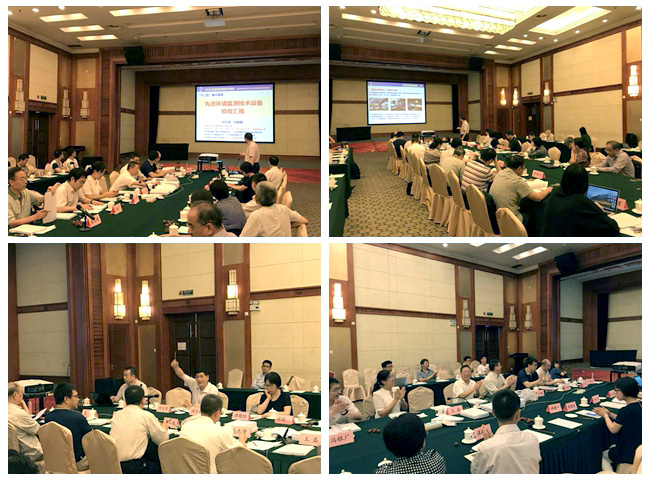 The picture shows the acceptance meeting
Director Wang Lei of the Resource and Environment Department of China 21st Century Agenda Management Center, the overall expert group of the project, Liu Jianguo, deputy dean of the Hefei Institute of Material Science, Chinese Academy of Sciences, and the chief expert of the project, Academician Liu Wenqing, and the Anhui Institute of Optics and Mechanics, Chinese Academy of Sciences, Peking University, Tsinghua University, Jilin University Thirteen research project leaders and some key members of 12 universities including the Institute of Remote Sensing of the Chinese Academy of Sciences, the Institute of Remote Sensing of the Chinese Academy of Sciences, the Institute of Remote Sensing of the Chinese Academy of Sciences, the Institute of Atmospheric Sciences of the Chinese Academy of Sciences, the Institute of Geography of the Chinese Academy of Sciences, Hangzhou Concentration, and Guangzhou Hexin. The meeting.

At the acceptance meeting, Academician Liu Wenqing, the chief scientist of the major project, introduced the research background, organization and implementation of the project. Researcher Liu Jianguo reported the project technical development report and project results. The participating experts listened to the report, reviewed the relevant materials, and questioned and discussed the project implementation and application demonstration. The acceptance expert group agreed that the project completed the research content specified in the task book, reached the assessment objectives and technical indicators specified in the task book, fully realized the overall objectives of the project proposed in the project approval, and agreed to pass the project technology acceptance.

The expert group agreed that the project has developed a series of in-situ on-site monitoring of environmental quality and pollution sources, water source water quality safety monitoring and early warning, environmental pollution time-space distribution monitoring technology and equipment, rapid on-line monitoring of mass spectrometry/spectral of atmospheric pollutants, and water pollution. Innovative results have been achieved in biological monitoring of satellites, satellite remote sensing, and rapid monitoring of heavy metal pollutants in soils. Low-cost high-performance environmental mass spectrometers with independent intellectual property rights and real-time monitoring equipment for urban road network exhaust emissions have been developed. Multi-parameter high-integration optoelectronic environmental monitor, low-cost intelligent environmental gas sensor, water quality safety biological early warning monitoring system, airborne atmospheric and water environmental pollution monitoring equipment, lake-type drinking water source eutrophication monitoring and early warning system, High-efficiency enrichment separation and detection system for toxic gases, satellite-machine-ground ecological environment quality remote sensing monitoring system, mega-city boundary layer physical and chemical structure detection and simulation system, soil heavy metal pollution on-site monitoring equipment, bio-fluorescence detection of lead, mercury and cadmium in water Equipment, key technical indicators The international advanced level. The project has applied for more than 200 national invention patents, obtained more than 60 software copyrights, and published 237 SCI/EI papers, forming a strong R&D team of advanced environmental monitoring technology equipment, establishing and developing low-cost high. Performance environment mass spectrometer, gasoline and diesel integrated vehicle exhaust telemetry equipment, water and soil heavy metal monitoring equipment and other research and development platforms, industrial bases and series of technical products, the project results have achieved good social and economic benefits, and has a broad Market application prospects.

The "Advanced Environmental Monitoring Technology Equipment" major project is aimed at the national short-term and medium-term environmental quality improvement, pollutant emission reduction control, environmental change monitoring technology and equipment requirements, comprehensive, three-dimensional environmental monitoring technology and automatic, online, on-site environment Monitoring technology research and development as the core, carry out key common technology research and development, system integration, technical verification, form corresponding environmental monitoring support technology, research and development of related equipment and equipment, and cultivate large-scale scientific research projects established by environmental monitoring strategic industries. The completion of this project marks the formation of a series of environmental monitoring technologies, systems and products with independent intellectual property rights, such as point, surface, network, stereo remote sensing and comprehensive multi-parameters. It has comprehensively improved the level of environmental monitoring technology in China and promoted advanced environmental monitoring in China. The leapfrog development of the technology industry.

(Original title: National 863 Program "Advanced Environmental Monitoring Technology Equipment" major project passed the acceptance)
We have two models cracking filling machine:GYGF500B and GYGF500T, Crack Filling Machine exists for filling cracks on the road surface, which is independently researched and developed by our company. This equipment is used to erase the cracks on the road surface to prevent the water from sinking into the base course which will speed up the crack propagation to form pits. This maintenance process will improve the road quality, prolong its service life and postpone the expensive heavy maintenance.
GYGF500B

Technical Parameters
| | |
| --- | --- |
| Generator set | 15Kw |
| Air compressor | 0.6m3/min |
| Burner | 1.0×105cal/h |
| Agitating motor | 0.75Kw |
| Discharging pump motor | 1.5Kw |
| Volume of sealant tank | 380L |
| Length of spray gun hose | 5.5m |
| Thermal oil volume | 200L |
| Matched truck | 3-5 tons load truck |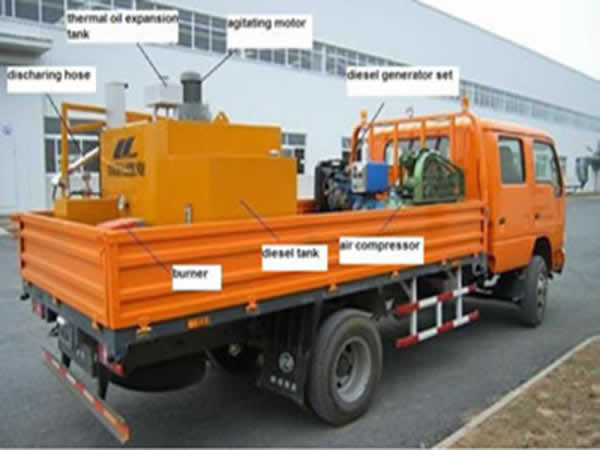 GYGF500TTechnical Parameters
Generator set
18Kw
Air compressor
0.6m

3

/min
Burner
1.0×10

5

cal/h
Agitating motor
0.75Kw
Discharging pump motor
1.5Kw
Volume of sealant tank
380L
Length of spray gun hose
5.5m
Thermal oil volume
200L
Trailer
PT-5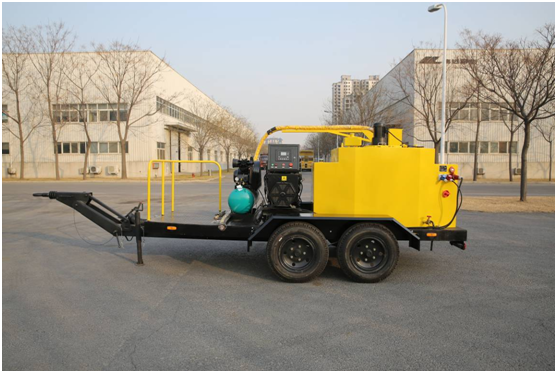 Performance Characteristics
1. Imported burner of the crack filling machine is applied to this automatically controlled machine for safe and reliable performance. Good fogging effect of fuel leads to low fuel consumption and low noise. Fuel and air make perfect matching to keep stable burning conditions, high burning efficiency and little pollution to the environment.
2. Sealant discharging volume is regulated by frequency converter. Sealant is pumped without delay to minimize wear of material pump and prolong its service life. Return suction solves the problem of drop pollution to the pavement.
3. Discharging hose is electrical heated to prevent sealant blocking the hose, light, convenient and flexible in use.
4. All the units of cracking filling machine for blowing, cleaning and heating are concentrated in one system. Long-life imported air compressor is applied with advantages of energy saving, low noise and long service life.
5. Sealant tank is heated by means of thermal oil indirect heating. Vertical shaft beats the materials 360 degree, which makes sure it is free of blinder corner and temperature is uniform for the purpose of avoiding partial scorching and aging. Automatic temperature control system and digital display system are applied to guarantee stable and precise control to the temperature.
Crack Filling Machine
Crack Filling Machine,Road Crack Filling Machine,Asphalt Crack Filler Machine,Asphalt Road Crack Filling
Henan Gaoyuan Road Maintenance Equipment Co., Ltd. , https://www.sgroadmachinary.com